PRE-LAUNCH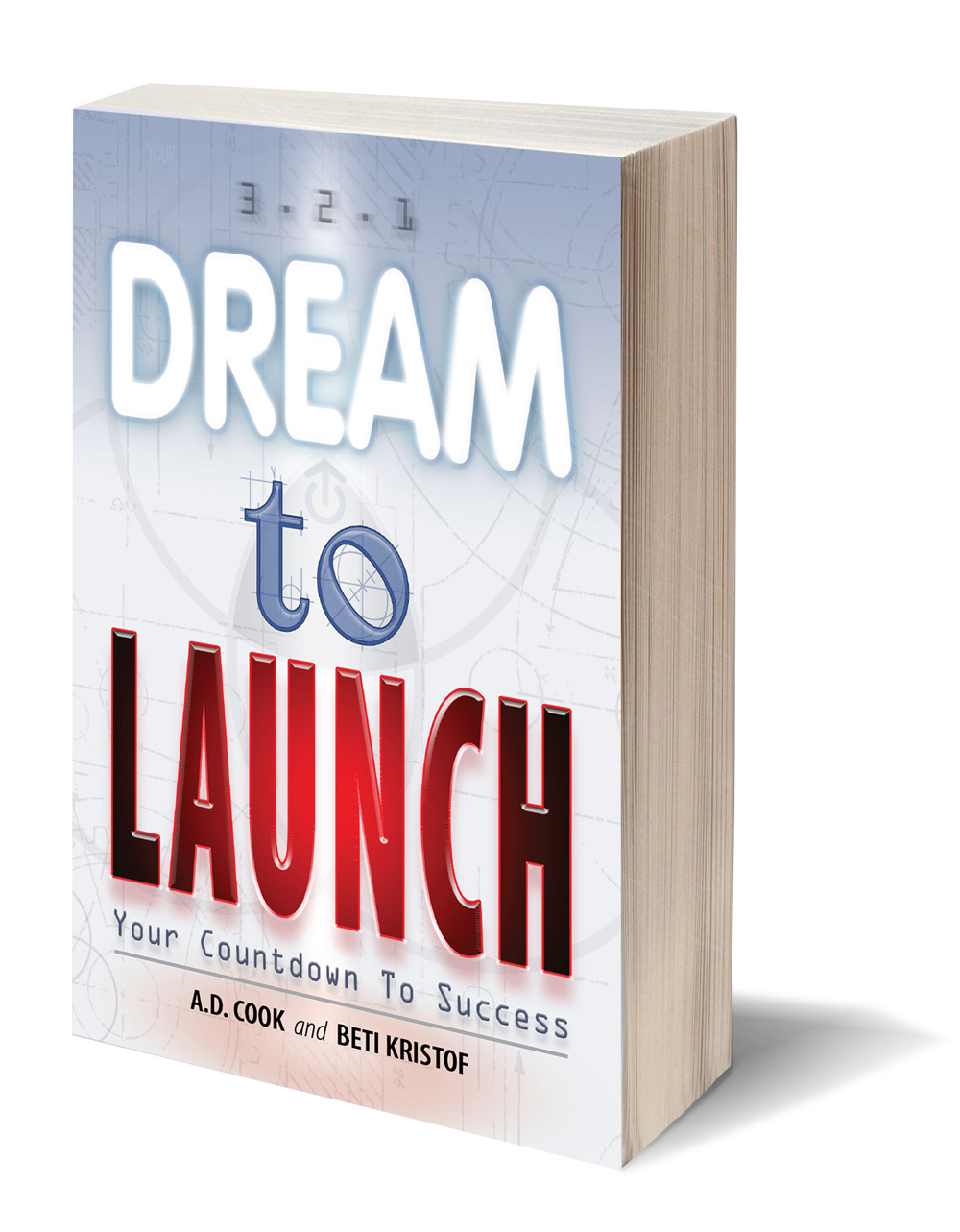 Preface
When creating DREAM TO LAUNCH we asked ourselves "Why do we want to create this book?"
As authors and designers, we've engaged in dream building and image creation for clients and their businesses over the years. As visionaries and artists, we've been of service to others in achieving their goals and desires. In this book, we intend to engage you creatively, heighten your awareness and provide useful insights to take your project from DREAM TO LAUNCH. We aim to answer many of your questions and help you create your unique map for success in realizing your vision.
It all begins with a dream — the beginning of all things possible. When propelled by desire and clarity, your dreams are what inspire and drive you to create anything you can imagine. Regardless of what it is; from writing a book, creating a painting, producing a movie, or starting a business, your vision is unique to you, your talents, and skill sets. To see, you have to imagine it first. You have to see it in your mind and believe it in your heart; then the power and energy of your intention can be set into motion.
"All our dreams can come true if we have the courage to pursue them."
~ Walt Disney
As DESIGNERS, we've worked with clients and companies to fulfill their dreams and take their products to launch. We've designed award-winning brands and logos, books, posters, packaging, point of purchase, dynamic websites, powerful prospectuses and marketing plans.
As ART DIRECTORS, we've overseen creative development of countless projects with long-standing experience in both traditional and digital media. Creative art direction requires diverse talents, overall knowledge, and the ability to implement a wide variety of processes. It requires communication and organizational skills, and understanding the big picture and applying a systematic approach to resolving even the smallest of details.
As VIDEO CREATORS, we've produced lesson videos for entrepreneurs, professional speakers, authors and life coaches. We are continually expanding our knowledge and creativity in this diverse and exciting medium.
As AUTHORS and WRITERS, we've created stories and books that have inspired artists and others to create art and think creatively. We've written hundreds of Blog posts and dozens of magazine articles, along with advertising and marketing copy. Recently, we completed writing and registered our first screenplay.
"People should pursue what they're passionate about. That will make them happier than pretty much anything else."
~ Elon Musk
As ARTISTS, we've created countless original paintings, commissions, and large-scale murals. Together we've produced hundreds of original artworks for beautiful homes, and commercial properties alike. Together and separately, we've won numerous awards, along with artworks featured on covers of magazines and books. Our paintings have shown in stunning art galleries coast-to-coast, ArtExpo New York, luxury events, and other venues including an upcoming three-year museum tour featuring A.D.'s realistic motorcycle paintings.
As MENTORS, TEACHERS and SPEAKERS, we've instructed art processes, creative writing, and design techniques at higher education institutions and through workshops, seminars, getaways, and private instruction. Various media include airbrush, drawing, painting (oil and acrylic) and other art media. Our current curriculum compasses lessons shared from the pages of this book focusing on creativity and whole-brain thinking.
As CO-CREATORS, we've collaborated with entrepreneurs including renowned photographers, world-class artists, illustrators, authors, speakers, life coaches, performers and entertainers, politicians, interior designers, restaurateurs, software companies, and a few bands and musicians. Throughout our careers, we've enjoyed the privilege of working with hugely talented individuals and motivated clients in our creative energy exchanges.
Our mastermind sessions with dynamic business visionaries and creative thinkers have resulted in our participation in remarkable product launches. We've worked with founders of several corporations whose companies have become nationally known and publicly traded.
"Between the abyss of fear and the pinnacles of knowledge, there is a limitless measure of imagination."
~ Beti Ktristof
We've been helping others realize their dreams for years, and this book is a natural progression of what we've been doing all along, so we've had our great successes and our share of learning experiences too. In the process of asking ourselves how we can be of benefit to others, we deemed the best way possible was to gather our combined thoughts, experiences, and ideas, and share them here with you. Our unique talent is in helping clients, and you, realize their big dream and make it real.
Our purpose is to share what has taken us a lifetime to learn. Indeed, this book would be an encyclopedia if we covered all the details. What we do touch on are the crucial questions you'll want to ask yourself to discover your level of desire and see your dream project realized.
The energy and processes it takes to manifest thought and intention into a tangible thing is our talents and skill set. Outlined in these pages, we take you from the proverbial napkin sketch through the power of process to a successfully launched product.
"Whatever the mind of man conceive and believe, it can achieve."
~ Napoleon Hill
We will ask you important questions like, "What is Your Big Dream? What do you want? Why do you want it?" and "Why does Your Big Dream matter?"
You need to consider, and answer, these questions in order to understand your commitment to yourself and Your Big Dream. We want to help you realize that dream. We will get into creative thinking, masterminds, and create mind maps and blueprints to help you manage your project.
We encourage you to enjoy reading our book cover-to-cover thoroughly a couple of times, once to get an overall understanding, and again, focusing on ideas that you're particularly interested in. We've created open areas for you to express your thoughts and notes. So, feel comfortable in writing in your book, on blank sheets, or print out worksheets throughout this course.
We would like to encourage you to consider our book and course a dynamic project, so in going through either, you see something we should add to make this project better, let us know. In the spirit of knowledge and creative energy exchanges, reach out to us through our contact page.
Thank you,
A.D. Cook & Beti Kristof